As you check-out at Exotica SHOP, please check Overseas for Delivery Method and PayPal for payment. As shown below.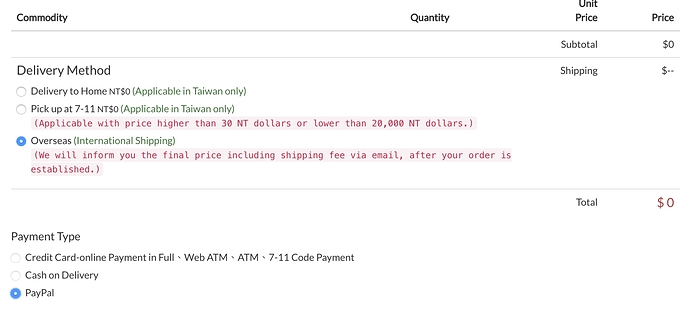 After checking out, you will receive an email, which is a quote including shipping fees of various shipping methods and PayPal fee†. We will send you PayPal payment request only after you confirmed this quote.
Your order will be shipped within 2 days after payment. The package tracking number and tracking address will be informed then.
† There is a 5% fee using PayPal, half of the cost is on us.
For our customers living in Hong Kong or Macau
Please notice that:
SF Express does not freight water-based lubricants or any objects resembling genitals. We will ship your order with Taiwan Post.
After shipping, we will update the tracking number of your order, just log into Exotica SHOP and check your order to get it. Please track the progress here.